PRIDE AND POLITICS
Welcome to our latest newsletter! 
I hope you're doing well and have recovered from conference, if you attended.
This newsletter features a conference roundup, a discussion around racial microaggressions, an MP Q&A and much more!
I hope you enjoy.
Elena Bunbury, Chair and Editor
MEMBERS MOMENTS
WORDS MATTER (AND SO DO NUMBERS APPARENTLY)
By Dr. James Noble
On the first week of October, we flocked to the Conservative party conference. A surprising highlight for those not in the know are the LGBT+ events, which are some of the most well attended events at Conference every year.
 
As on previous years, we ran a stall in the exhibition centre, which are all given a number for the exhibition floor guide. As is usual for the exhibition floor guide, all the stalls were allocated a stall number. At random, due to our location, we were allocated stall 28.
 
During and since the conference I have been amazed to see outlandish theories regarding this allocation. Left-wing twitter conspiracy threads and LGBT news outlets immediately re-labelled the stall as "section 28" and suggested this was as the result of some homophobic conspiracy on behalf of the organisers of Conservative party.
 
Language has power, and with free speech comes a responsibility of decent people to use this right in a respectful way. I would hope most people would agree with this. However, it appears now that we can't even use numbers without a storm being made in a teacup.
 
Section 28 was a stain on British politics, but it was repealed 18 years ago. Regardless, numbers are just numbers, and no more regard was paid to the number by those of us who manned the stall than if it had been number 13. As a 28-year-old gay male, I now wonder if I should identify as straight this year, as to not be accused of being a walking section 28?
 
Despite my flippant tone, there is a real problem here. This type of reporting causes real damage to the cause of LGBT equality, as it turns people away from the debate of the present LGBT issues which have impact on LGBT+ lives. This is what need to be addressed.
 
It is important we call out this matter out as the absurdity it is, so that people who are not LGBT can identify with us and help us on the path to equality, and not think we are all snowflake, cancel culture, lefty-loonies.
THE MAJOR IMPACT OF MICROAGGRESSIONS
By Suraj Bhanot, LGBT+ Conservatives BAME Outreach Officer
 
Microaggressions may not seem as serious as overt racism, but their experience can have a serious impact on people from a minority background. A microaggression is an indirect, subtle, or unintentional discriminatory acts against members of a marginalized group. Daily experiences of racial microaggressions have been shown to be linked to lower levels of psychological and physical well-being.
A recent systematic review has categorised microaggressions and their consequences into four sub sections to highlight their impact:
Pathologizing differences are attempts, either conscious or unconscious — to criticize a minority group's cultural styles, values, or practices. These are also referred to as microinsults and can perpetuate a notion that people from a Caucasian background are superior. For example, assuming a colleague of from a BAME background is in a job such as a cleaner or delivery driver, when in fact they are of the same or of a more senior level than you. 
Denigrating and pigeonholing – this is when some white people can, confine, or exaggerate a target's mental capacity, behaviour, or appearance. This commonly happens in day-to-day conversation. For example, assuming someone from a minority background automatically has skills based on stereotypical views of that person's race.
Excluding and rendering invisible – the most common example here, which I have myself been asked many times is 'where are you from?' and being asked again to confirm my ethnic origin. This can imply someone from an ethnic background that isn't 'indigenous' to that country is seen as having a lesser steak in that society. Another common example is asking someone if they have a nickname/abbreviation to their name as it may be 'difficult' to pronounce. If you can say Daenerys Targaryen (a name of a character in the TV series Games of thrones) without stuttering, learning to pronounce someone's name isn't too much of a challenge
Perpetuating colour-blind racial attitudes – this often occurs when some people from a white background downplay the impact of historic or current racial injustice
 
What is key to understand is that microaggressions are a serious problem for minorities. Evidence shows they lead to both psychological and physical harm. As LGBT people, we can often empathise and relate to how it feels to be discriminated against, but our community isn't immune from the challenge of creating a truly inclusive environment for all people, particularly those from a BAME background who may have very different coming out experiences.
FUNDRAISING
CANDIDATES' FUND EVENT
By Owen Meredith
Last week, we hosted the first Candidates' Fund event since the historic 2019 General Election win. This begins the important process of rebuilding funds in our war-chest, ready for the next election - whenever it may come!
Our guest speaker, Lord (Nick) Herbert, spoke about his own experiences as an openly gay candidate and parliamentarian and how the Conservative party is the true champion of LGBT+ rights. He talked passionately about the UK's role on the world stage and the important work he is now taking on as the  Prime Minister's Special Envoy on LGBT Rights ahead of the UK hosting the first ever international LGBT conference next year.
A huge thanks to all those who attended, and made it such an enjoyable evening. To our hosts Jonathan and Manuela, and to all those who helped on the evening - without whom the event would not have been possible. A special mention also to all those who donated auction prizes. 
The event raised £4,000 which will help support out Conservative candidates in national elections across the UK. You can find out more and support the fund via our website. 
CONFERENCE ROUNDUP
THE CHAIR'S REVIEW
By Elena Rose Bunbury
Conference feels like a thing of the past, when in reality it was only a few weeks ago! It was amazing to get the chance to see all of our amazing members in person and listen to all of their feedback and thoughts first hand. 
We have our biggest programme yet with a whole range of events from policy, to partying. We also held a brilliant stand, run by a team of volunteers which saw visits from a whole range of MPs throughout conference, many of which signed our various pledges for the LGBT+ community.
Our first event was our 'Curry with Currie' which saw us dining on a delicious curry buffet whilst listening to anecdotes from friend of the group, Edwina Currie. 
Our following 3 events took place on Tuesday. First we had our 'Pride & Politics' event where our own members pitched their policies to our incredible panel which included representatives from Stonewall, the Government, TRG and even more.
Next we held our sold out Stonewall Reception which became the event of conference, due to the brilliant speech from Carrie Johnson. We had queues piling up over an hour before the event even started, which is an amazing show of support for the community. This event even saw the Prime Minister sneak in through the kitchen to get a glimpse of the main speaker. 
Finally we all put on our dancing shoes and heading to Cruz 101 to dance the night away. Guests partied away until the early hours, celebrating the work of the group and the progress that has been made for the community.
I want to say a huge thank you to anyone who visited our events, stand, took a leaflet and engaged with us. However, it wouldn't be possible without our amazing volunteers. Some conference groups have full paid teams of staff working 24/7 to plan their events. We did it as a group of volunteers in our free time, which I am incredibly proud of. 
 
A GUILTY CONFERENCE
By John Gray, Newly Appointed LGBT+ Conservatives Secretary
I've always felt that guilt is a strong motivator.  From the LGBT+ Conservatives newsletter I guessed that there was a small team of dedicated, hard-working volunteers keeping the LGBT+ Conservatives show on the road and I was grateful for their work. However I'd never been that involved, usually just showing up for the party elements.  So when I received an email asking for volunteers to help at conference, guilt propelled me to respond.
 
Beyond that though, LGBT+ rights seem to be under increasing attack, even in European countries where I had naively assumed the battle had been won.  I knew that it was time to do my bit.
 
So, at 8am on the Sunday, uncomfortably hungover, I found myself in the exhibition hall ready to start my first shift under the watchful eye of Luke Robert Black the social media guru.  It turned out to be a great decision! The various members manning the stand were great fun and incredibly diverse. It became clear that for LGBT+ conference attendees, it was important they had somewhere they could come to talk with other LGBT+ people.
 
Having attended the pre-conf curry, I went on to attend the pitch to the panel (Pride & Policy) event, the Stonewall reception and finally the closing party at Cruz101.  I'm relieved there appears to be no photographic evidence of my repeated and ill-judged dancing sessions on that very cramped stage.
 
It turns out it is a very small team doing the work so I really urge members to get in touch and offer some help. I had great experiences! Chatting to Nancy, CEO of Stonewall was a highlight along with Carrie Johnson and the PMs double-presence at the reception. To have the PM, the PM's wife and the Foreign Secretary all attending an LGBT+ Conservatives function says so much about the party's commitment to our ongoing fight for equality. 
 
Guilt was my motivation for replying in the first instance, now it's a love and passion for the group's work that will continue to keep me involved. I am delighted to announce I am now the Secretary for LGBT+ Conservatives. 
COUNCIL MEMBER OF THE MONTH
"Pierre has been a key member of the council since he joined as VC Outreach. He has helped progress our campaigns and external relationships, whilst also maintaining a strong outreach network. Throughout conference he has been incredibly active assisting with all of our events and also the planning that went into it. I'm very thankful to have him on our team!"
SPOTLIGHT SERIES
BTS DARLINGTONS DIAMOND
An interview with Peter Gibson MP
How did you feel the moment you won your seat and what was the first thing you did?
When the exit poll was announced I was ecstatic but still unsure of my personal result until I had a call from the count. I was thrilled that the hard work of the previous year, of all the volunteers who came to help had paid off. It was a lifetime ambition fulfilled. Immediately the next day we went to meet local market traders in the centre of town who had been supportive of me, and spoke with the Chief Executive of our local hospital. Straight down to work.
Describe your first day in parliament.
The Blue Scarf brigade from Teesside all travelled down on the train together, accompanied by the media, who also covered us in the next day as we walked into  Parliament. It was quite surreal, but exciting also.
What made you realise you're a conservative and at what point?
I've been working for the party from the age of 10 delivering leaflets and helping at elections, I joined the Young Conservatives at 16 and have been involved ever since. Becoming an MP is the culmination of all those years of hard work through tough times and good, being loyal to the party who I believe represent the best chances for a bright future for our country. As a business owner keen to do good work in my community the Conservative party is my home. The party of freedom,  liberty, and a proud nation.
What is the hardest thing you've had to overcome since becoming an MP?
The workload is immense, it is life at a hundred miles an hour and spread of home, constituency and London. It is constant juggling and constant change. It's hard on our families. Finding time to switch off and have a break is incredibly hard to do especially in the social media age and 24 hour news.
Have you had any negative experiences due to your sexuality since becoming an MP, if so, how have you dealt with that?
I can categorically say that my sexuality has not been an issue from the moment I was selected. Naturally I was concerned that it would be, but we live in a more enlightened age and with so many other LGBT members of the House there is plenty of understanding support. It wasn't always like this and our party has moved on incredibly far but there is still more to do.
Why is it important to have LGBT+ representation?
In a representative democracy it is important to have people from all sorts of backgrounds with different experiences and a minority sexuality representation is, in my view, important to bring that perspective to Parliament - not to be a single issue campaigner on it but to demonstrate to your constituents, your fellow members of the of the LGBT community, and the country, that we are here and visible and have a voice. 
What are your hopes for the Global LGBT+ Rights Summit?
The summit is an exciting opportunity to showcase to the world how far the UK has come. Lord Nick Herbert is going to be an incredible Chair and I am hoping that a local school from Darlington will be able to showcase their LGBT focussed artwork.
How do you balance representing your constituents whilst also holding a portfolio?
The role of PPS is very compatible with the Commons being the eyes and ears of Ministers to backbench issues relevant to the portfolio. Listening is one of the most underrated skills in Politics but for PPSs its essential and I'm told I'm a good listener.
Some people believe that voters in red wall seats are naturally hesitant or even hostile to LGBT+ rights and people. Do you think this is a true narrative?
No, not at all. As I said earlier it hasn't been an issue for me. I simply work hard in my constituency and in Westminster. Darlington has a small but vibrant LGBT community and I think it is appreciated that they have an MP that they have something in common with.
What is your favourite thing about your constituency?
The people are incredible. Direct, hardworking and challenging which I welcome. Darington has a lot to be proud of - railways, heritage, history, architecture but also a great future to look forward to especially with the Treasury Economic campus being located here.
What do you get up to in your free time?
Love walking the dogs - Clemmie the Jack Russell, and Peppy and Ebony the Labradors. A perfect day is a homemade Sunday Lunch made by my husband Gareth, after a long walk with the dogs and then relaxing in front of an open fire. Sadly every Sunday is not like that but that's what I do like to do.
What is your favourite biscuit?
Do I only get to choose one? It has to have chocolate on it.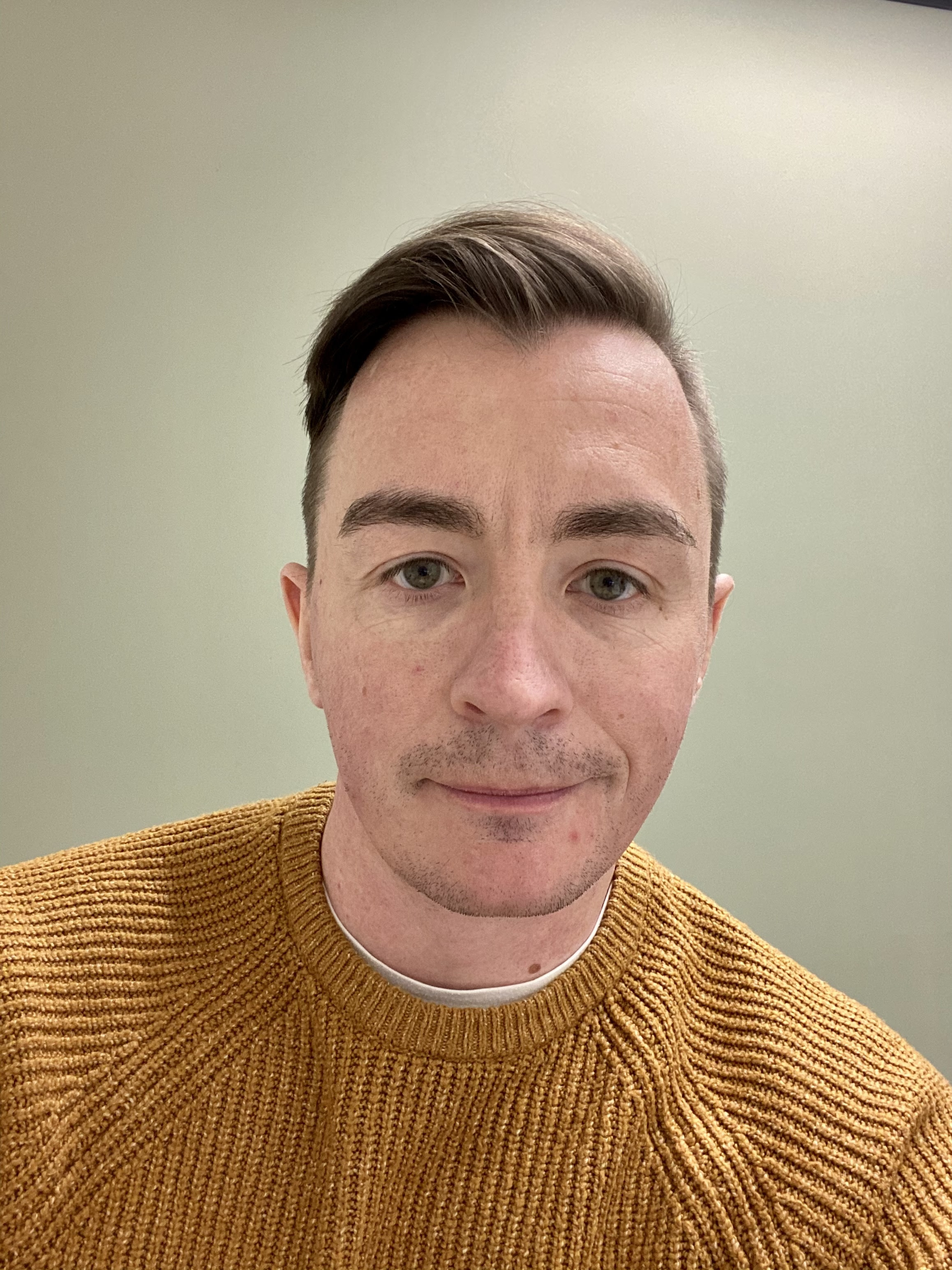 COUNCIL SPOTLIGHT
Sean Anstee - Treasurer at LGBT+ Conservatives
 
How long have you been volunteering for LGBT+ Conservatives?  
A long time indeed, it must be more than a decade now when the Group reformed as LGBTory.  It's been a great experience and to see how the Group has contributed to advancing the policy debate within the party has been a source of pride.  I'm less knowledgeable about particularly nuances of policy, but my role is to make sure we have a Group that is sustainable, respected and contributes effectively to the party and our community. 
What is the primary responsibilities of your role?  
I'm the Hon. Treasurer which means I look after our finances, pay invoices and account for the membership fees.  It's been a particular pleasure to support the creation of the Candidates Fund - for our members running for elected office, this is the most direct way we are able to support them in their candidacies - and I know from running in the 2017 Greater Manchester Mayoral race how valuable this support is.
What are the funding priorities for the group?
We are a lean organisation with very limited overheads, and so the vast majority of the funds we raise are spent either supporting Pride events, our attendance and activity at party conference or the Candidates Fund.  The more we raise, the more that goes towards these activities.  It's simple really.
 
How have you seen the organisation change over the years? 
To campaign effectively is to influence and convince people to coalesce around your policy objectives - it takes time, perseverance and an acceptance there where you may feel in a minority when you start, the end outcome is majority support for your position (take marriage equality as an example).  I believe LGBT+ Conservatives understand this, and today is campaigning for rights that will help everyone in society live freely and without discrimination.  In a way therefore, the issues may have changed, but our approach to representing all of our members is the right one, and should be supported.
As a former councillor, do you wish you had a programme like the LGBT+ Leaders mentoring?
Standing for elected office is an experience almost unlike anything else.  In recent times, the advent of social media, and toxicity that has poisoned political discourse has made running for office an even more daunting decision, never mind if people are concerned about their sexuality.  It's crucial therefore that programmes like our mentoring scheme are there, so that candidates can have a pool of people to turn to when the going gets tough.  In reality, politics is a lonely business - and having people you can trust to turn too is essential for encouraging good people to stand, be elected and be counted. 
What would you say to people considering standing?
Do it for the right reasons, stand by your convictions, be known for making principled decisions and rise above (and don't respond) to every Tom, Dick and Harry on Twitter. 
What is your best memory from pride?
I remember attending Norwich Pride many years ago with Chloe Smith MP.  The association had asked the Group at the time to support the event and a large group of us made an effort to travel the distance and support.  The appreciation was palpable - and served as a reminder that whilst London, Leeds and Manchester are all important, supporting Prides across the country is what matters.  
Who is the most inspiring MP you've met?
George Osborne - always on top of his game.
Outside of politics, what do you get up to?
Working ridiculous hours, running and spin.  I've just started an MBA and am a big supporter of improving and expanding social housing.  I am a Group Board Member of L&Q, (one of the country's largest housing associations) and a Governor at Manchester Metropolitan University.  
Who is your LGBT+ Idol?
Too many to mention...
What is your favourite biscuit? 
Custard cream.